FUN AND RELAXING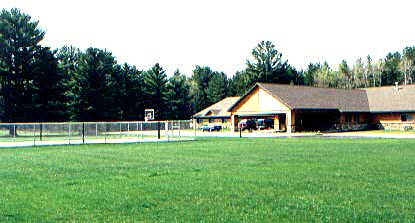 Photo By Gwenevere Young. Copyright 2000.
While working I rarely find time for relaxing; one look at White Pines Lodge changed my mind. There was no way around the peacefulness and quiet surroundings. Every where I looked seemed to whisper, go ahead and wind down, take a deep breath and enjoy the fresh air.
The lodge sits on vast green lawns surrounded by huge White Pine Trees, some a hundred and fifty years old and walking and snowmobile trails. The Sport Court sits in front of the building offering tennis, basketball and volleyball. Inside you will find spacious and clean rooms. The rooms are airy, the beds are comfortable and large. The rooms come complete with hair dryers, great water pressure, wonderful personal service and so much more. Four King Suites with whirlpool. The fitness center, Jacuzzi, sauna, Sport Court and swimming beach wait for everyone to enjoy.
Kathy and Jeff White are the proud owners and charming hosts of the lodge. I found them to be friendly, generous and easy to talk to. Kathy and Jeff refer to the lodge as a four season escape to the North Woods. Kathy and Jeff speak of their guests as being friends and share heart warming stories of some of their favorite memories. They tell us of the wildlife we could expect to find, Wild Turkey, Loons, Bald Eagles and Deer.
As to a good nights sleep, you better set an alarm clock, or you just might sleep 'till noon! I couldn't believe how quite it was. The bed was perfect, even my six foot two companion slept like a log. We had an overdue great night's rest. Waking to hot coffee and dounuts was a welcome touch, one we never turn down.
Next door is a cabin and camping resort that shares many of its ammenities with White Pines, including the swimming beach, boat rentals, game room and restaurant. It's about a three minute walk, certantly worth checking out.

Photo by Gwenevere Young. Copyright 2000.
My companion and I couldn't resist a game of tennis in the Sport Court. We had fun chasing the ball around until we were utterly exhausted. Nothing like a good game of tennis to bring out the competitive beast in me, so I did my best to beat the beans out of my companion. The rackets and balls are supplied by the lodge, which means less stuff to pack.
Kathy and Jeff focused on both families with children as well as couples with romance in mind. They have done an exceptional job with designing a great getaway that is in an affordable range for my readers. The Play and Stay packages are about as good as any I have ever seen, be sure to ask when you call, you won't be disappointed!
My experience was fun and relaxing, Jeff and Kathy earned an easy "A" from me. I feel comfortable in sending my readers to this lodge and to North Star Casino for a fun and relaxing getaway. Call for reservations as early as possible, especially if you are planning for a weekend. 715-787-4800. Between Hwy. 29 and 55 in Gresham, WI. www.captaincove.com
Written by Gwenevere Young. Copyright 2000.